Evelyn Van Pelt
Evelyn has covered sports for over a decade, beginning her journalism career as a sports writer for a newspaper in Austin, Texas. She attended Texas A&M and majored in English. Evelyn's love for Ole Miss began when her daughter Katie attended the university on a volleyball scholarship--and continued as she watched Katie receive three degrees from Ole Miss, culminating with her Pharm D. in 2012. Evelyn, a member of the FWAA, USBWA and the NCBWA, has covered Rebel sports for numerous outlets. In addition to working for The Rebel Walk, Evelyn is a sports writer for a newspaper in Texas.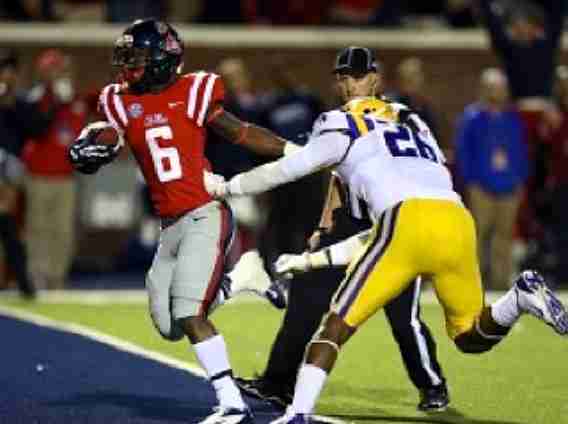 Football
October 12th, 2013
0
360
The Ole Miss Rebels made a furious attempt to upset nationally ranked Texas A&M, only to lose a 41-38 heartbreaker in the final seconds of the game. As he did last year, Johnny Manziel, A&M's Heisman Trophy winning quarterback, brought his team back from a fourth quarter deficit and claimed victory in front of 60,950...
Football
On Saturday when Ole Miss hosts Johnny Manziel and Texas A&M, Rebel fans will finally see their team play again in the friendly confines of Vaught-Hemingway Stadium. The Rebels (3-2, 1-2 SEC) have had a tough early schedule, playing four of the first five games on the road. However, they can now look forward to six straight games...
Football
It's been a year in the making, but the big re-match is finally here. No, not the A&M/Bama game, though that's certainly a huge one. I'm talking about the Ole Miss vs. Texas game, which takes place at Darrell K. Royal Memorial Stadium in Austin tonight. One thing you need to know from the outset. The Longhorns are a little...